Christmas Gift Giving Made EASY!
We all have those people who are super hard to buy for. Save yourself time and give the perfect fresh gift to all those on your list. We are happy to send you a complimentary gift certificate perfect for Holiday gift giving.
Meet the Brothers
Born and raised in Warsaw, Ky. Zac and Taylor started farming during their summers home from college. From there, they grew a successful produce farm, supplying markets in Cincinnati, Louisville, Lexington and Columbus. The farm also raises tobacco, cattle and hemp.
Dedicated to continuing their operation as a family farm these brothers farm for the love of agriculture as much as their love for each other. Active in their communities the Jones Brothers are proud to be able to live and raise their families in the community that has given so much to them.
A Brothers Bond; Kentucky Farm Bureau Voices Video
Explore our 2024 Products
Every purchase helps us give back to local food banks!
For each pound of produce sold, we donate 10% of produce to local food banks. Your purchase directly impacts your community, and helps to feed those who are less fortunate. We care about the communities that have raised us and are proud to be able to give back.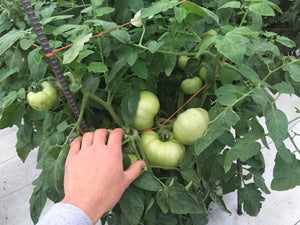 Home Grown
Buying directly from our farm is the only way to guarantee peak freshness. All of our produce is picked fresh and ripened with no artificial processes. We pride ourselves on raising the best produce we can with no artificial chemicals.
Convenient
No need to stand in the crowds or wait in lines, hoping to catch your favorites still in stock at the Farmers Market. We'll deliver Farmers Market quality right to your door weekly. Orders can be places for yourself or others as an excellent gift option.
Local
Located in Warsaw, KY. Jones Brothers Farm is a short drive from many metropolitan areas. This perfect location ensures your produce never spends more than a few hours on a truck before reaching your home.
The farm is owned and operated by Taylor and Zac Jones along side their growing families. We feed our families the same produce we provide to yours.